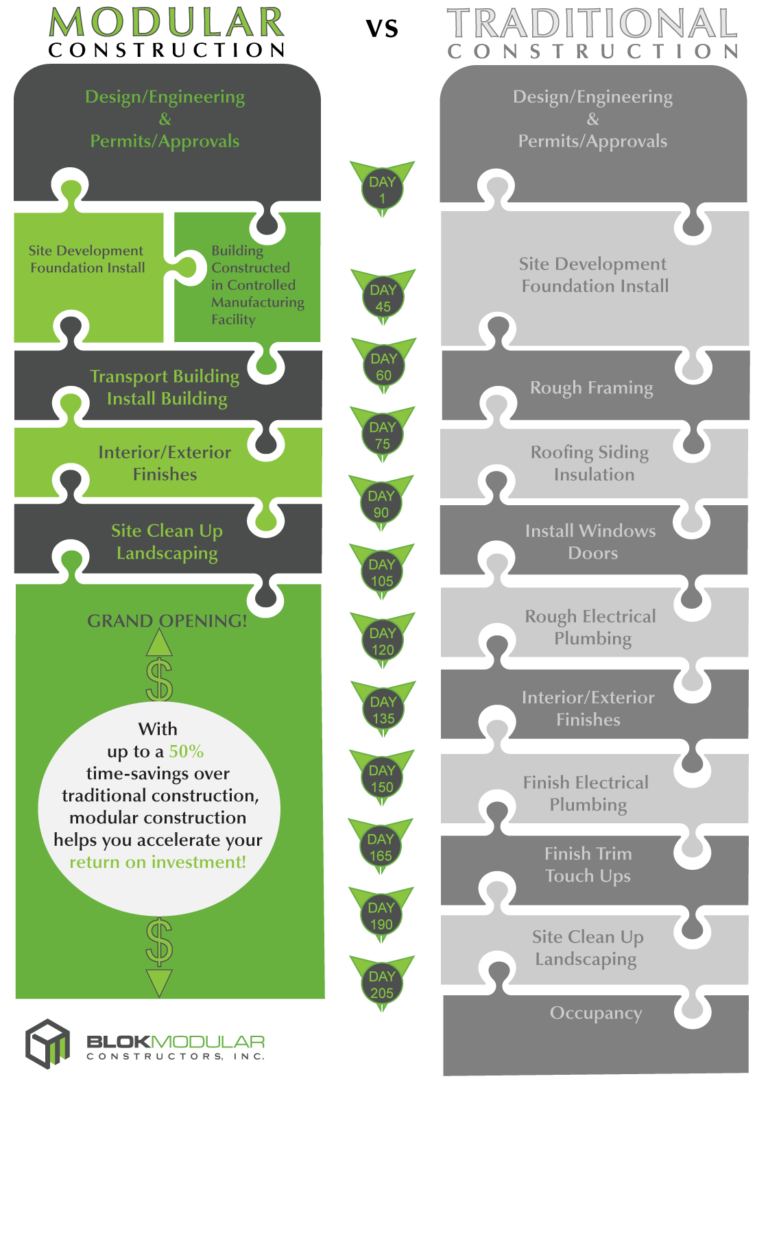 BLOK helps you maximize the
Benefits of Modular Construction
Executing projects safely is of paramount importance to BLOK.  While many companies list the other benefits of modular ahead of safety, the elimination and mitigation of safety hazards is of highest regard to BLOK.  The value of the other modular benefits can be substantial but are of little consequence if workers or others are placed in a dangerous environment.
Workers in conventional construction environments often experience less than ideal conditions.  A myriad of natural occurrences can result in a challenging environment to work safely in. Modular construction, being in a factory-controlled setting, is a safer alternative.  Factory workers are typically arranged in stations with all necessary equipment and materials conveniently in reach.  Specialized assembly lines, lifting and crane equipment and restraint equipment eliminates many of the perils that workers would be exposed to when attempting similar efforts during a site-built project.
Off-site construction also significantly reduces the amount of material and equipment needing to be stored on-site. In addition to reducing the hazards presented to workers by large amount of materials or large equipment, the reduction in material and equipment storage can significantly reduce the legal and safety issues related to "visitors" or vandals.
According a poll done in a study of Off-Site Construction respondents were asked, "What were the actual benefits realized by using off-site construction?" Forty percent of respondents reported safety as one of the benefits.
The reduction in time to construct buildings using the modular approach is likely the biggest incentive that off-site construction has to offer over site-built construction. In a recent study on modular construction, it was determined that schedule was reduced on average by 45% over what could be achieved by site building the same or similar projects.  The following figure demonstrates the significant time savings achievable when utilizing modular construction.
In a review of the other benefits provided by modular construction, it is easy to understand the positive impact they have on overall project costs.  Moreover, the control gained in a factor environment results in a more efficient use of labor and materials.  A study by the Modular Building Institute found that on average overall project costs were 16% less when utilizing the modular method versus the traditional on-site construction method.   Following are just some of the drivers behind these savings: 
Lower labor cost:  Since the majority of the building is constructed offsite in a plant, significant cost savings can be realized as often onsite labor rates are dictated by historically higher labor rates, union, prevailing, or Davis-Bacon wages.
Less material waste:  The factory controlled environment of modular allows for the most efficient use of raw materials.  The natural elements that materials can be exposed to when constructing a building on-site can produce a level of waste not experience in a factory.
Earlier return on investment: This benefit depends on the business operation, but the minimum level of this benefit is the saving in interest charges on the cost of the land and the average construction cost over the reduced construction period. The maximum level of this benefit is the earning potential of the building when in early operation.
Loss of the earning potential of the existing facility: This is a real cost that occurs particularly where existing buildings, such as hotels, are extended or modified. A reduced construction period will lead to commensurate savings.
Reduced project overhead: Typically site general conditions are estimated as 8% to 15% of the total construction cost. Therefore, a near 50% reduction in time onsite can lead to a commensurate saving in general conditions and overhead cost.
Modular costs are fixed: The risk of extra charges, backcharges and surprise costs is typically significantly reduced since the majority of the building is fabricated offsite in a controlled environment eliminating typical risk factors encountered onsite, such as weather, labor challenges and unforeseen conditions, that affect overall project cost and schedule.
Because the modular structure is substantially completed in a factory-controlled setting, it offers the ability to conduct extensive quality control checks on each piece produced. Prefabricated concrete, for example, can avoid the imperfections frequently found in concrete poured onsite. The lack of exposure to the elements also increases the quality, as does the ability to fabricate in factory conditions rather than on ladders or from scaffolding. Using dry materials can avoid the potential for high levels of moisture being trapped in new construction. In addition, offsite trials can be carried out to prove the system before installation. Temperature-controlled and well-lit manufacturing plants offer productive environments for workers when compared to the variability of outdoor site conditions. In addition, standardized manufacturing and prefabrication systems and allow for streamlined processes that contribute to more efficient and predictable QA/QA program.
Modular construction is found to be a greener construction method.  A factory-controlled process produces less waste and presents less of a disturbance at the site. 
Production in a factory also eliminates the possibility of materials being exposed to the elements; this eliminates the occurrence of high moisture content materials being trapped in the envelop of the building.  
Depending on the initial use and placement, relocatable modular buildings can be dismantled and relocated or refurbished for new use, reducing the demand for raw materials and minimizing the amount of energy expended to create a building to meet a new need.